The Kruger Trail. A dream. The ultimate reality.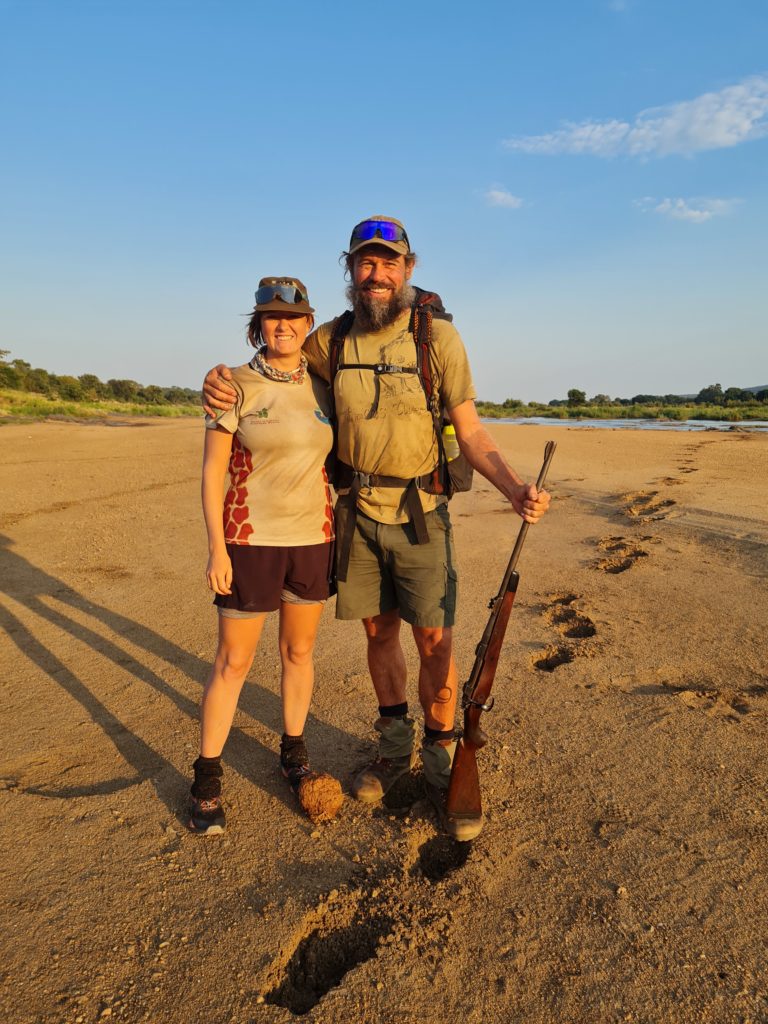 ---
Something that piqued our curiosity when paging through the SanParks Newspaper back in 2018, convinced us to use our Rainy Day fund and "see what happens" as we put our names down for the Kruger Trail (TKT) Auction, became a 5year adventure for Lauren & I. Together with a group of old friends, new friends and family, we have sequentially walked the full length of the Kruger National Park, amassing incredible experiences, seeing parts of a wilderness area few ever traverse.
Needless to say it has had a profound impact on the Booth family – conversations on that first trail were the catalyst for great change and each Leg of the trail (6 in total, approx. 100km each) reaffirmed that it was the right thing for me personally and our family. We certainly would not be living where we are, doing what we are now, if it wasn't for the experience of TKT.
We started Leg 1 in May 2019 on what was supposed to take 3 years (2 legs per year) but was extended to 5, over years of great change in the world. Our perspectives and decision making have been shaped by the challenges faced the world over since 2020. We were sweet and innocent in May 2019 when we first picked up our back packs (way too heavy) for Leg 1, and wizened soldiers reached the Crocodile River in southern Kruger. The experiences we had over the collective 36days walking and 30nights camping in the wilderness areas of the Kruger were mirrored by what life threw at us over that period and so much that happens "out there" is a valuable lesson for back in "real life" (debate still rages on about which is the more real world…). We love discussing the most useless vs useful items we have taken on trail (ground sheet, comfortable shoes & clothes and a shower nozzle👌🏽 Too much food & clothing have definitely weighed us down!), which is probably a good question to ask ourselves about life – what is the most useless thing we keep or carry with us day-to-day?
But "something" came to an end when we reached the Crocodile River at the end of Leg 6 of TKT. We symbolically washed our hands in the water (in an area safe from crocodiles), recognising not only our physical achievement, but the mental space it has given us, thankful for our safe passage. It was a profound moment.
---
The end of the new beginning for Lauren & I, the end of our introduction to what is now an integral way of life. The journey of the trail is often symbolic of life's passage, as we steadily and patiently made our way from North to South of the mighty and wild Kruger National Park. Adjusting to the changing landscapes, making decisions based on perceived risks, learning a new way of moving, accepting discomforts and revelling in natures beauty, tuning in to different vibrations, responding to each challenge, each animal, each campsite. And continuing onward with the journey.
Lauren is mourning The End and has given clear instructions that a New Adventure must be lined up soon to counter the Post-Trail Blues. So "Leg 7" is in the planning. A tour of Pafuri, an area only briefly touched on in the first leg of The Kruger Trail. An ancient landscape that has so much history, culture and adventure to offer on the vast Levuvhu and Limpopo floodplains. It is somewhere that I have been drawn to as my journey as a Trail Guide has taken flight, bourn from those early conversations on Leg 1 – a place that my soul seems to resonate with. I can't wait to share it with Lauren, our Kruger Trail Group and maybe even with you, if you feel drawn there!