We may have moved to the Slowveld, but let me tell you, stuff has been HAPPENING.
I met my new neighbour the other day. It was 7pm, and she was on her haunches, holding the non-pointy end of a python that was stuck in her fence. She seems nice (the neighbour, not the python). She was trying to restrain the python that was moving in the direction of her cat, hungrily. She is clearly a pet lover and very brave. I relate to one of those attributes very strongly.
Due to the other attribute, my cat is going to have to fend for herself…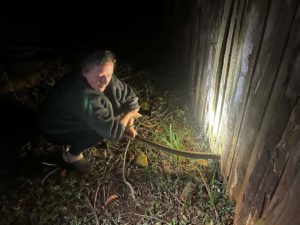 We have crossed the Boerewors Curtain. Officially. Charlie (8) corrects my Afrikaans. And my kids first live music concert was Bok van Blerk… When he bust out "Sing Afrikaaner Sing" as die eerste liedjie, I felt like a bit of a fraud there in the audience. But I got over it, bought the cap and soon Ben was saying "Mom, please drink more wine so you will go dance up there!".
I have to say, the kid knows his mom. And Yirre it was a proper jol!!
Summer is approaching. Our first full summer. This morning it was a mild 25deg at the gym and my shins were sweating. I have concerns. Will I have to stop gymming altogether? Will I dehydrate? Will I have to become an early morning exerciser ("Please NO!!" yells the Not a Morning Person into the void).
A sunbird has made a nest in my cap. I vary between feeling like the Lowveld version of Snow White (Slow White if I may…), and impending doom as the last time a sunbird nested in our vicinity, I became a Sunbird Mom.
And was not a good one.
A wise (and suitably experienced) friend has advised "Next time feed the sunbird ensure (strawberry) and fruit flies". I suspect it took a lot of trying to figure this combo out.
So maybe my next clutch will turn out better. Either way, I don't think I'm getting my cap back.
I have just discovered my kids finish school on 1 December, not the 12th like I thought. They return to school on 14 January 2024. Six weeks. I am horrified!!
So I am advertising them to their Grandparents.
"It's your Lucky Day! Ben & Charlie are available for your undivided attention from 2 December, til post Christmas-ish. Guaranteed to increase ambient volume (and tempers), make you mutter "are you frigging serious" more times than you can possibly imagine and eat everything in your cupboards faster than a pack of wild dogs. Charlie will set up your Christmas lights in no time and it will take All of Time to get them untangled again.
Come with 2 x complimentary Elf On the Shelves for guaranteed Festive Cheer.
Call soon to avoid disappointment!!"
I'm expecting a bidding war…